Moment Marketing! The term might be familiar to you or completely alien, however, if you have spent any time on social media ( And I know you have), I can guarantee that at one point or the other, you may have come across a fine example of moment marketing without even realizing it.
Moment marketing if used well, can be an excellent way to create highly shareable social media content that will get your audience engaged and excited about your brand.
What is Moment Marketing?
For those who don't know the term, moment marketing is an ingenious tactic of capitalizing on real-time events and situations to create highly relevant and witty content that often feels spontaneous and inspires engagement among users.
This type of content is mostly shared on social media. The key is to share the right content exactly at the right time, in the right context.
Have you heard of the show Game of Thrones? If you have, then you may have noticed a ton of brands sharing content related to the show and adding a creative spin to their own brand.
Here are a few examples of how brands not only got on the #GoT bandwagon but also used various other live events to delight their audience with witty content.
Hotstar creating meme-worthy content for its desi audience
Subscribe to the Newsletter!
Never miss out on our blog posts and free resources. Get your online marketing buzz sent straight to your email.
Swiggy capitalized on the news of the Indian Army finding footprints of the controversial beast – A Yeti
Another fine example of how to use humor with moment marketing, Wok Express earns laughs with brand recall
When Avengers End Game was trending – Durex did not hold back its Moment Marketing Game
St Pauls Institute used the banning of Tik Tok as a way to connect with its target audience – young students!
Fevicol took inspiration from one of the episodes of Game of Thrones, where Cersi is denied her elephants
So now that you have seen a few moment marketing examples, it's time to learn how to start creating content like this to boost engagement and connect with your followers
Step 1: Research Trending Topics on Social Media
Before you decide to create content, you need to first figure out what's actually trending on Social.
There are a couple of ways to go about doing this, and each social media platform might have different steps to check what's hot, however, the principle behind it is the same. Here is how to check what is trending for Facebook, Twitter & YouTube
Facebook
Monitoring what's trending on Facebook use to be a lot easier back in 2018. Facebook had a small trending feature on the top right-hand corner of its newsfeed, however, they have now gone ahead and scrapped that feature after public outcry over fake news promoted in the trending tab.
While, there are loads of monitoring tools, like Hootsuite, HowSociable, Hastagify, etc, I personally start my research the old fashioned way, when it comes to Facebook.
Just a quick scroll through my newsfeed & keeping an eye on what my friends are sharing gives me some clarity on what is going on online.
The next aspect that I keep an eye on is the type of Ads, news articles and blog posts, that are shared on Facebook. This gives me an indication of what topics I could start working on.
Trendis is a free tool you can use to check what's trending online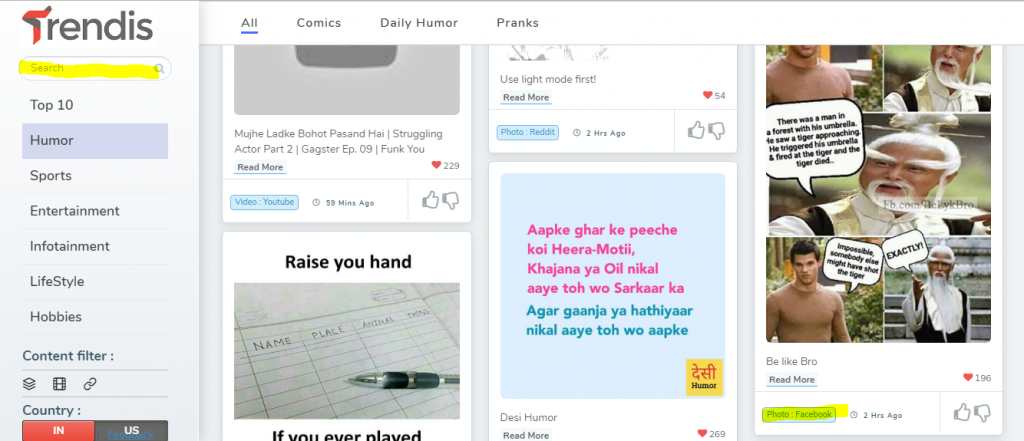 Finally, my tool of choice to check what's trending online and on Facebook as well is this free tool called Trendis. It's absolutely brilliant because it not only shows you breaking news (like the old Facebook trending section) but it also shows you trending content from Twitter, Youtube, Instagram & Reddit in real time.
Twitter
Finding trending topics on Twitter is really easy with the nifty 'Trends for you' section that Twitter provides. You can also click on the hashtag symbol on Twitter to get an in-depth newsfeed of what's going on on the micro-blogging platform.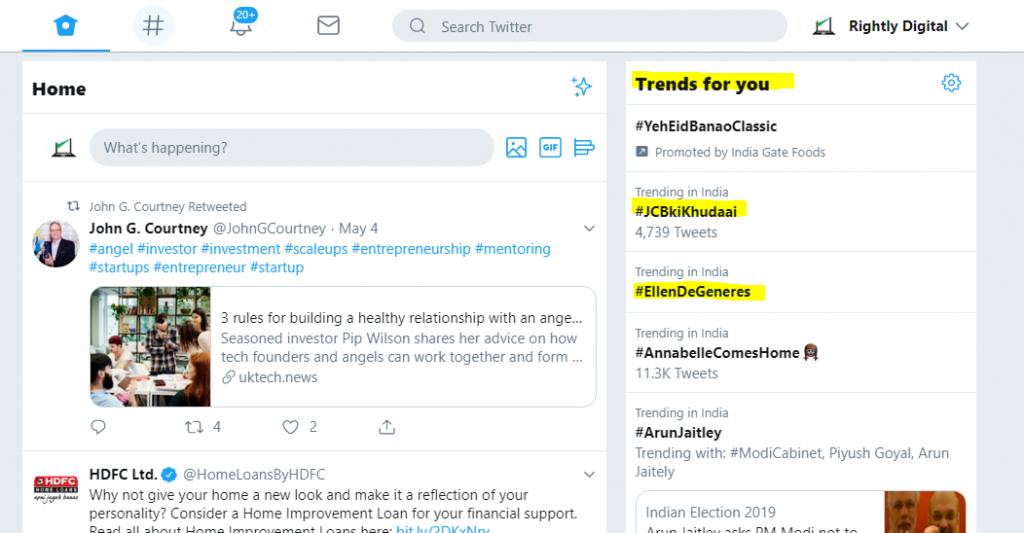 Besides the Twitter app itself, you can also use Hastagify to analyze top Twitter & Instagram hashtags online. Another great tool you can use for Hashtag Tracking is by BrandMentions. It's a free tool that provides Hashtag Analytics for Instagram, Facebook, Twitter, and more.
YouTube
Just Like Twitter, YouTube has also introduced a trending section to help users get an in-depth view of viral videos on its platform. Just click on the trending tab on the right and select the category of your choice.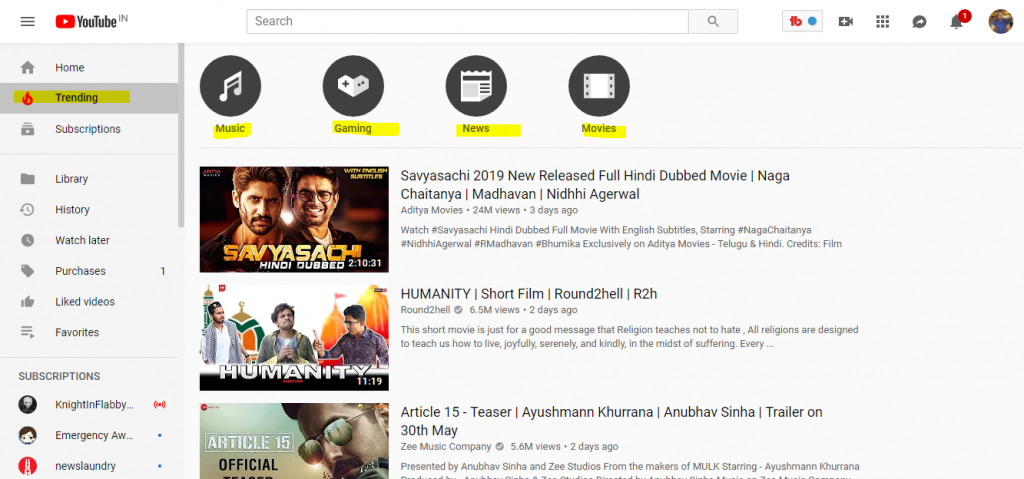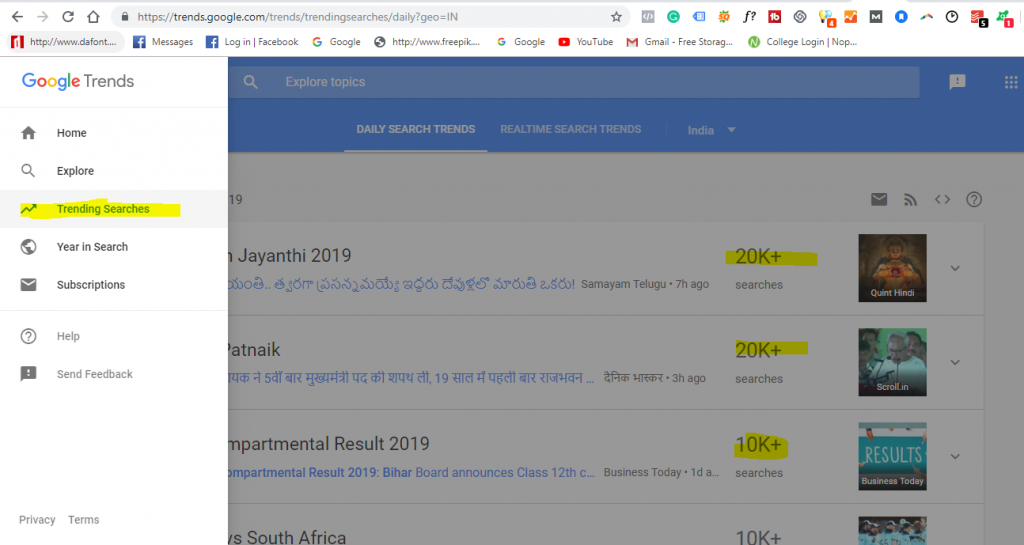 Besides this, I also use Google Trends to check what's trending online. Once you log in to Google Trends and select the country of your choice, click on the top left-hand section and select 'Trending Searches', you will get a quick view of all that is trending online for the day.
Step 2: Work on Your Copy
Once you have shortlisted the topic after your research, the next and possibly the hardest part of Moment Marketing is the copywriting process. If your copy is not witty or relatable, it won't go viral. Take your time and think of ideas that could connect with your target audience and also tie up your brand's message & values.
Writing great copy depends on two key factors: General Knowledge & Specific Knowledge
General Knowledge is the knowledge of current affairs & what's going on in the environment whereas specific knowledge is the knowledge related specifically about the brand or product in question.
For example, when St Pauls Institute of Communication Education created a post based on Entrance Exams, they combined two separate attributes in their copy aka, Specific Knowledge by linking it to a Media Career and General Knowledge – that is on the news of Tik Tok being banned in India
I have written a detailed article on copywriting tips and tricks that will come in handy when you're preparing content for your Moment Marketing Campaigns.
Step 3: End it with Eye-Catching Visuals
Your creatives need to be visually attractive in order to garner attention. The good news is that making creatives has now become really easy with the help of free tools like Canva, Crello, Adobe Spark etc. You don't need to have any graphic design skills at all. These tools are easy to use and have thousands of elements in heir inventory that you can use.
Memes for Moment Marketing
Moment Marketing can be used in a Meme Format as well. I purposely created a special section for memes because they are a powerful format that can boost your brand's presence online. Memes can do wonders for the most niche brands in unexpected ways.
For example, the outburst of memes on JCB excavators with the hashtag #JCBkiKhudayi has put the brand on the radar since the past week.
The memes became so viral that it sparked a response from the company themselves.
We are truly humbled by the love shown for JCB in India today, with #JCBKiKhudai trending across the country! Thank you to our customers and fans for your enthusiasm and support! With @JCBIndiaLtd, you can #ExpectMore. #JCBkikhudayi pic.twitter.com/4oGhCAqcyJ

— JCB (@JCBmachines) 27 May 2019
There are free tools that can help you design & create memes within minutes such as Meme Generator. You can use a wide range of images from their library or add your own image, add the text of your choice and voila, your meme is created.
Conclusion
Moment Marketing is one sure shot way of creating viral content quickly. You will need to do a bit of research mixed with witty copy and eye-catching visuals, however the result of this effort will be extremely rewarding.