Digital marketing is now the big daddy of the most desired skill required in 2023. Why?
Well, the Coronavirus has only accelerated the digital world. Traditional marketing tactics won't work anymore.
Almost every brand, big or small, requires marketing to garner attention and digital marketing is one of the cheapest ways of reaching out to a lot of people with minimum investment. So if you're reading this article, then I understand that you want a piece of this humongous pie as well and are probably wondering how to make a living as a freelance digital marketer.
Working from home does sound fun and attractive and yes the opportunities are endless but trust me, it is going to take a lot of hard work, and even more disappointments before you strike gold. So if you're in it for the long haul, here are a few important things you need to do to start a freelance digital marketing business
Start by Practicing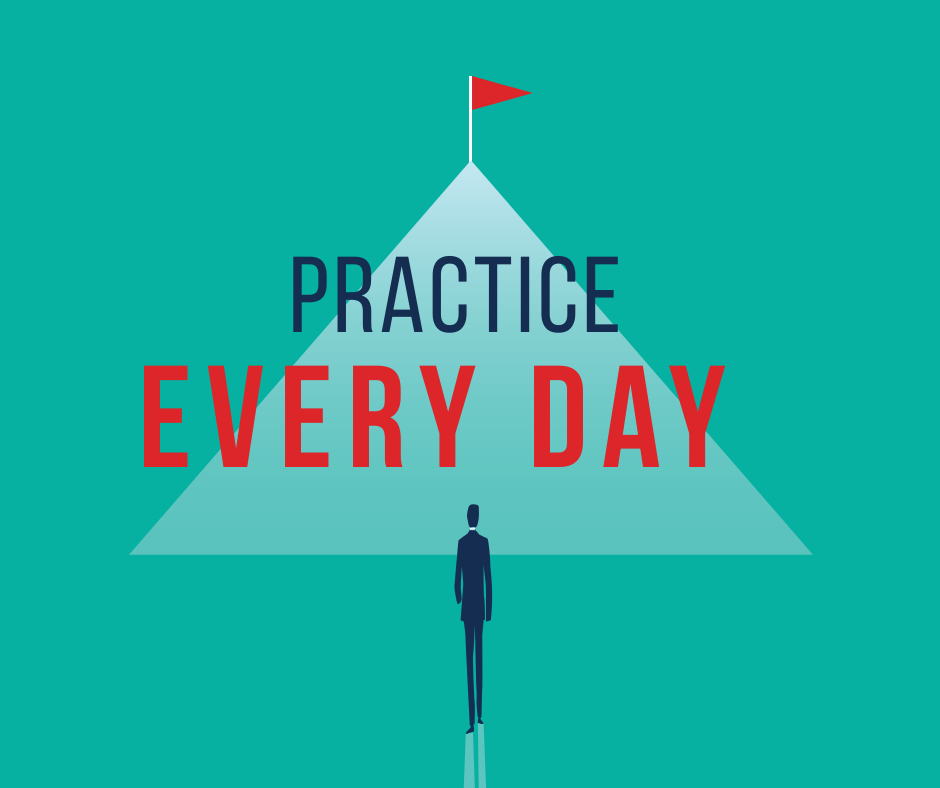 The best way to see if you are up for a freelance gig is by practice. Visit a couple of groups on Facebook related to startups, digital marketing questions, or media groups and scan the kind of questions people are asking. More often than not, you will find people asking questions on behalf of their company. Pick up two to three questions like this and start developing a marketing plan for them on your own.
Some of the Top Digital Marketing pages where you can search for relevant questions on Facebook are:
Learn Digital Marketing by Digital Deepak
Roundtable for Digital Marketers (RDM)
Digital Marketing – (SEO, SMO, SEM Jobs)
The groups below are more generic in nature however I have noticed a lot of Digital Marketing related requirements on them.
Once you have picked out the questions, think about what would work best for these brands, choose which platforms would be best for them. A few questions that you could ask yourself are as follows:
Is social media a good option?
Within social media, which platform would work well – Facebook, Twitter, Linkedin, Instagram?
What would be the content plan for each of these platforms?
What sort of keywords do they need to rank for?
Do they have a content marketing strategy?
Start jotting down all these ideas and make a 2-week marketing plan for each of these brands.
Check what their competitors are doing? This will give you a good base to work on for practice.
Pitch your plan to those stakeholders
Now since you have created a marketing plan with some strategy as well, there is no harm in pitching your ideas to those people asking questions.
Remember the whole purpose of picking out those 3 brands was for the purpose of practice, now that you have got your creative juices running, there is nothing to lose in sharing your ideas with them.
Not only will you be helping them but more often than not, business owners don't know how to implement these marketing strategies effectively. You could offer your services to implement the ideas you shared. Worst case scenario, they won't hire you, but they will remember you, and that can be a real asset in the future.
Choose Your Expertise
Digital Marketing is a diverse field, there are so many services under its umbrella. If you try to offer all of the services under the field of online marketing, you will surely compromise on quality.
Instead, it's better to figure out what your strengths are within the field of marketing and aim to hone those skills.
If you're good at content writing, then offer that as a service, if social media is your domain, then aim at perfecting that, or you think you're good at technical SEO, then become the best in that field.
A lot of freelancers fail when they try to offer all of the services under the umbrella of digital marketing and it then becomes too overwhelming. Remember, a jack of all trades is a master of none.
To get into freelance digital marketing, you have to aim to become an expert in a specific domain. Practice at one skill until you become a champion at it. This will improve the quality of your work and you will get more clients as you get more positive reviews.
Now the next important question is how to get more freelance digital marketing work? There have to be more ways to get projects than just doing social service online right?
Well actually, there are and it is absolutely free. Here are a few ways to get some online marketing projects that will set the ball rolling
Sign up for Freelance Service Sites
There are tons of sites right now that offer work for freelancers. Most of these sites are free and they take a small commission out of the amount that you make.
Some of the notable freelance websites are as follows:
UpWork – You can create an account with UpWork and list the skills that you have to offer and the charges.
Fiverr – At Fiverr you can buy and sell services for as little as 5$ only. The competition here will be fierce so make sure you learn all the kinks to set up a fully optimized Fiverr account.
Freelancer – Freelancer is the leader in offering freelance services online and competes with sites like UpWork and Fiverr.
Register Yourself on Google My Business
Google My Business is an extremely powerful tool that can get you tons of clients if you optimize it well.
First, you need to register yourself as a business by creating a Google My Business Account
Next, you need to fill in all the details that are relevant to the service you provide, make sure you have relevant keywords while setting it up and also set up a physical address (could be your home address)
Google will send you a verification code which usually takes a few days to reach your address, once you receive it, verify your account and your listing will appear on Google
Work on acquiring good reviews and always aim for 5 stars
This is extremely powerful for Local SEO and you will attract customers within your area who are looking for services that you provide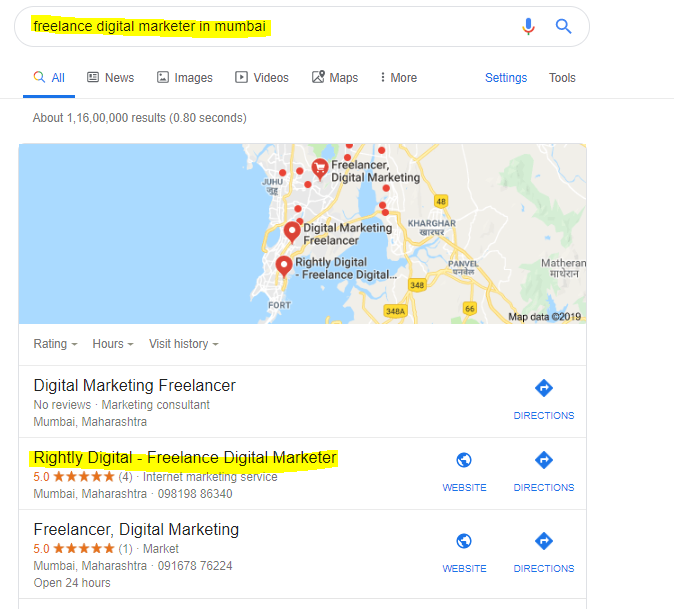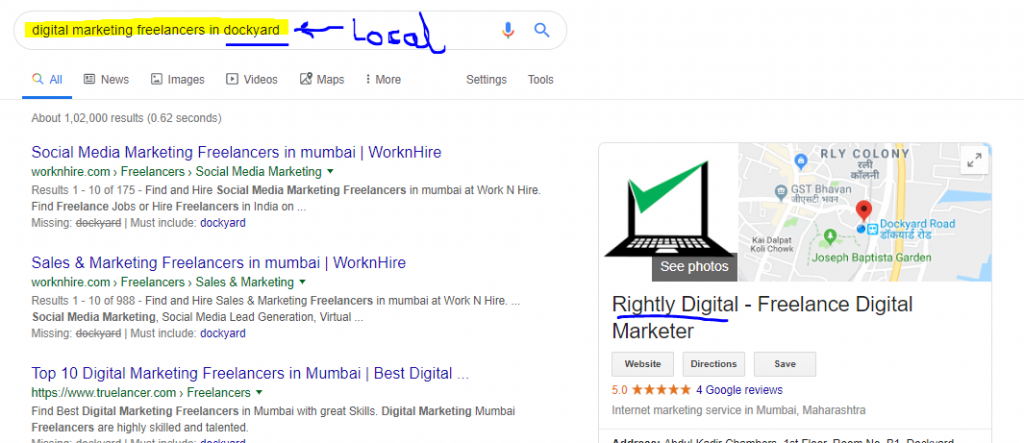 You can also use my business to publish offers and posts similar to your social media posts. It might not look like much, but it is a nice way of garnering more real estate on Google Search, and people actually interact with the content you share, provided if the content is click-worthy

Conclusion
While there are numerous more ways you can take your first steps to become a digital marketing freelancer, the most important part is to mentally prepare yourself, choose your niche, and just start practicing. Once you get going, I'm sure nobody will be able to stop you from achieving your goals.
Odell Dias is the founder of RightlyDigital.com where Online Marketing concepts are made easy. He has over 6 years of experience in the Digital Marketing industry, helping brands and individuals alike to achieve their marketing goals. He is known as one of the best digital marketing freelancers for small-to-medium-sized businesses.
Summary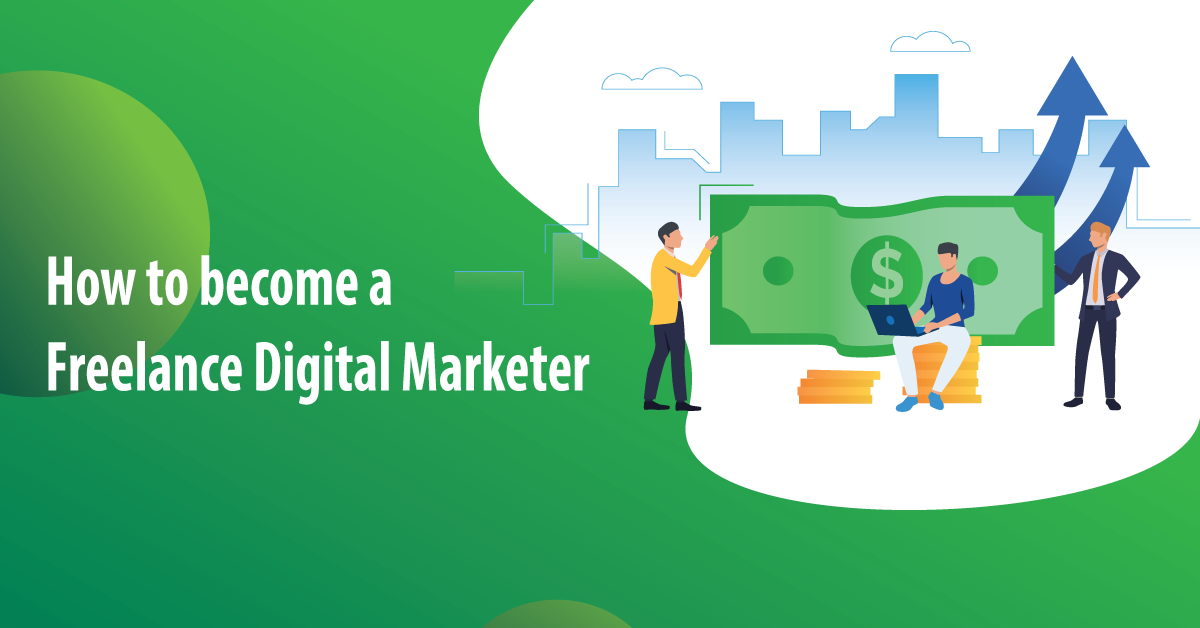 Article Name
How to Become a Freelance Digital Marketer in 2020
Description
If you're a digital marketer and want to earn more money by acquiring freelance clients, here are a few important things you need to do to start a freelance digital marketing business in 2020
Author
Publisher Name
Publisher Logo