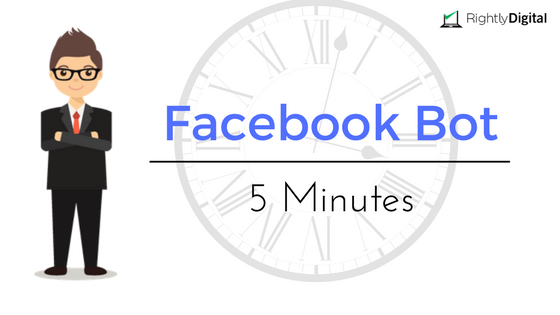 Facebook messenger bots are gaining quite a reputation for capturing leads, increasing engagement among subscribers as well as taking automation to a whole new level.
Some have even gone so far as to say that it might take the place of emails as the next best marketing tool. While personally, I don't think emails will ever lose its value for years to come, however, Facebook Messenger bots are slowly becoming a force to be reckoned with.
Deepak Kanakaraju, one of India's leading digital marketers, recently said and I quote
I've been using it only for 2 days, but the results are promising. The open rates are close to 90% and click rates are always above 20% (which is unheard of with email marketing).
Wow, that does seem like some outstanding stats right there.
So how do you set up this awesome feature on your own WordPress website? It's actually quite simple and you will be able to get it up and running in less than 5 minutes.
In this tutorial, I'll show you how to activate one messenger bot template that will help you capture leads, you can then send your content directly to these leads on Facebook Messenger.
We are going to use ManyChat to achieve this task.
ManyChat is a free messenger marketing service that can be installed on your website, it has quite a few nifty features however for this tutorial I'll be covering a single module.
I invite you to explore all the other modules of ManyChat, and play around with it, that's the best way to learn any type of marketing tool effectively.
Quick video on the setup process created just for you 🙂
Step 1: Sign Up with ManyChat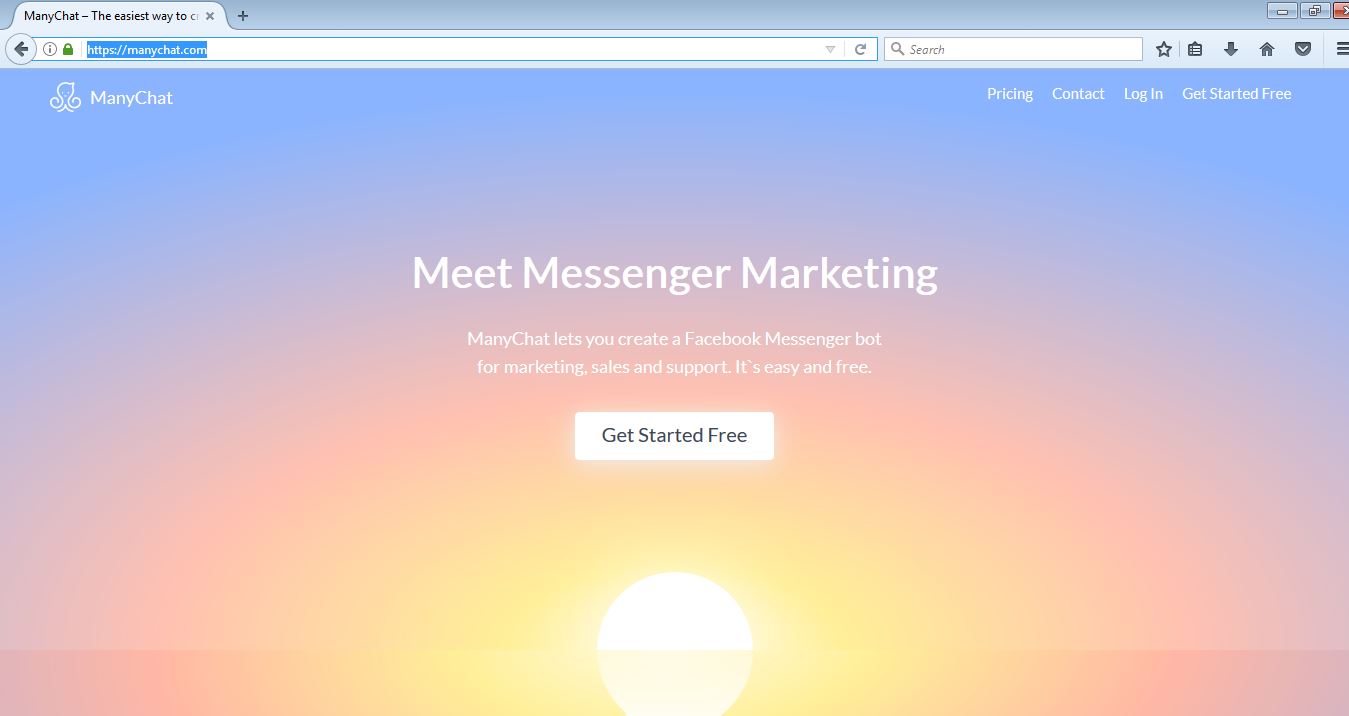 Visit www.manychat.com and click on the ''Get Started Free' button. Once you do this, it will ask you to connect your Facebook Account with ManyChat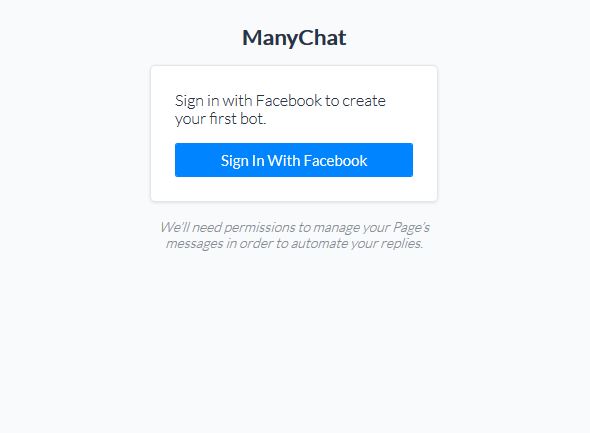 Click on the 'Sign In With Facebook' and then on the 'Continue as Safe' button. ManyChat will then ask you for a few permissions from your Facebook account, you know the drill here, click on okay.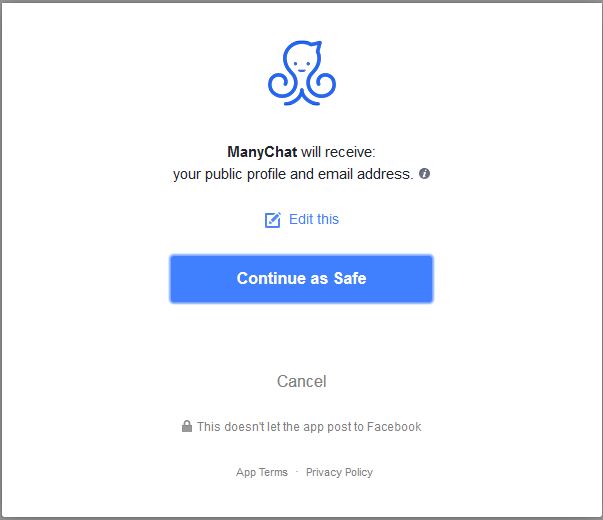 Then you will be prompted to connect with a Facebook Page, if you have multiple Facebook pages, then choose the one that you would like to connect. Note that you can also connect multiple pages with ManyChat
Then you will see the initial setup screen that looks like this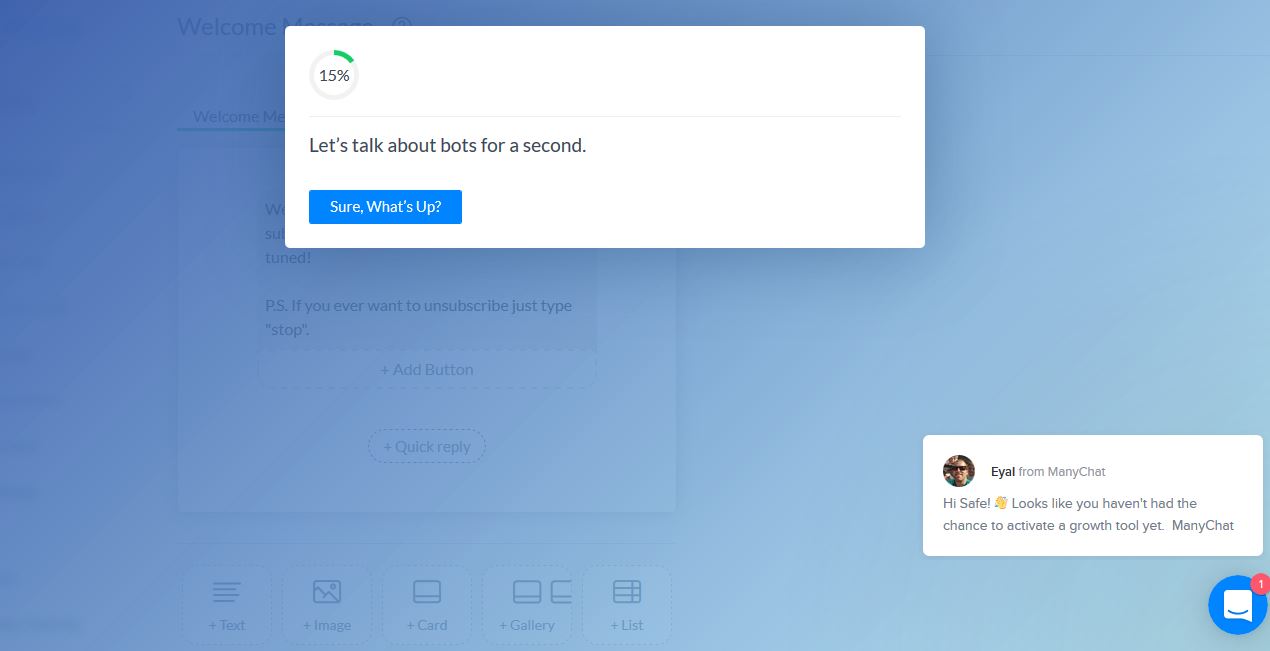 Click on 'Sure What's Up' button, you will then be prompted with a few tutorial features, you can either go through those or skip them.
For now, you may skip them until you reach the 60% setup level of ManyChat that is 'set up your first broadcast'. Click on Let's do it and then skip all the options until you reach the main dashboard
Step 2: Configure Your Email Popup Widget
Now we get to the fun part. The part that we have all been waiting for! Configuring your email popup widget.
You will see a lot of features on the left side of the dashboard. This may look overwhelming at first, do not get scared or freak out. On the left, you will find the  'Growth Tools' button, which I have highlighted in yellow, click on it.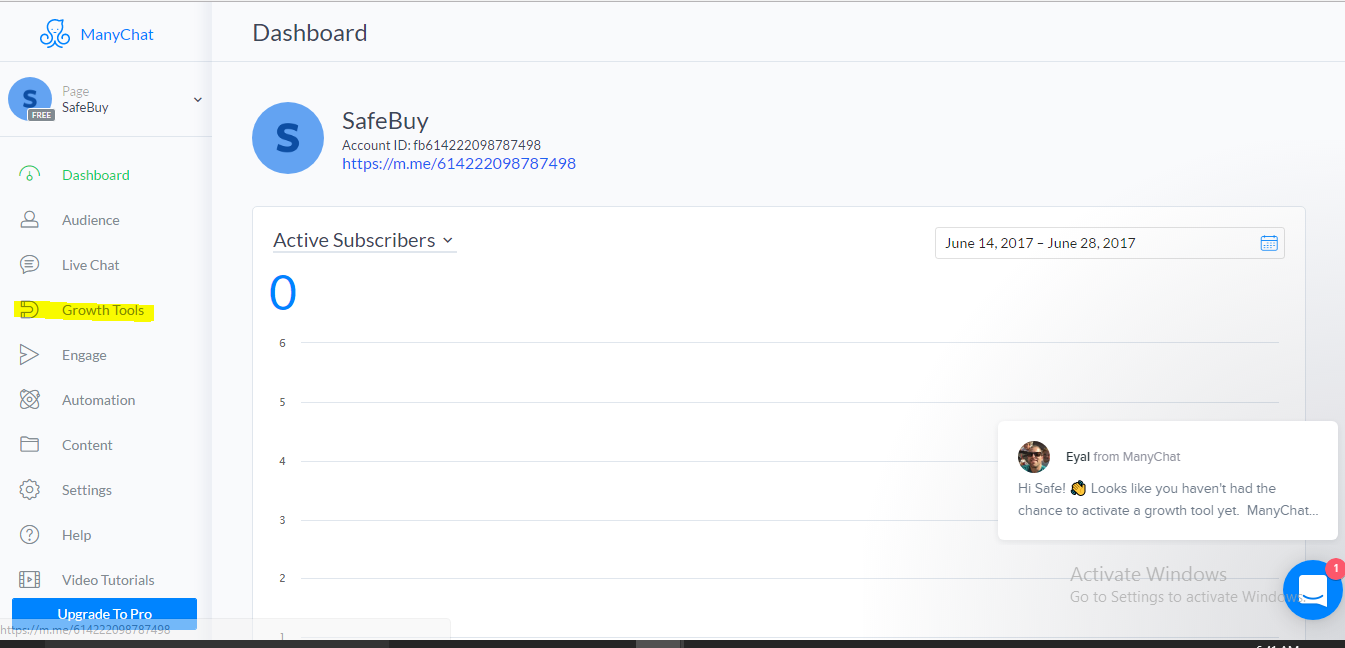 Once you click on that, ManyChat will give you three options, they are
 Example Bar

 Example Pop Up

 Example Landing Page
Select the example Pop Up option, then you will see this beautiful screen where you can start customizing the popup page the way you want it.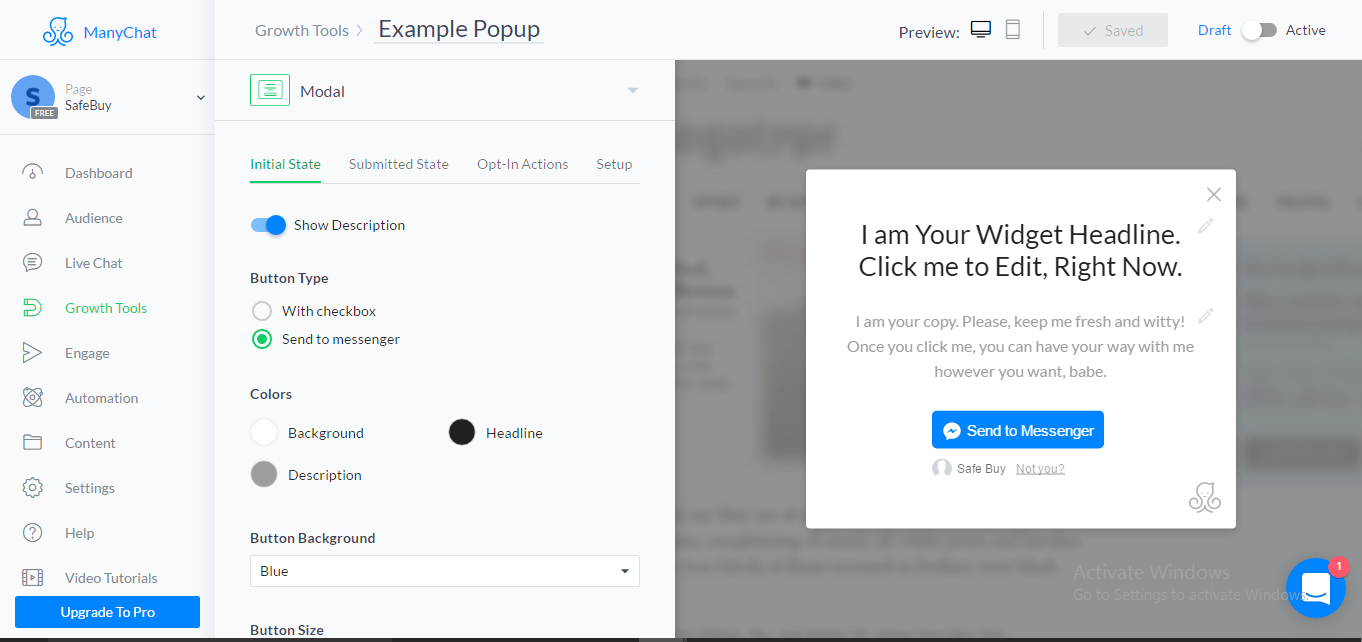 By clicking on each text option on the right, you will be able to edit the way it appears on your website. I have already set up one for my website and if you're a new visitor on my blog it will pop up for you too, that is once you have finished reading 60% of this article.
So this is what it looks like on my website.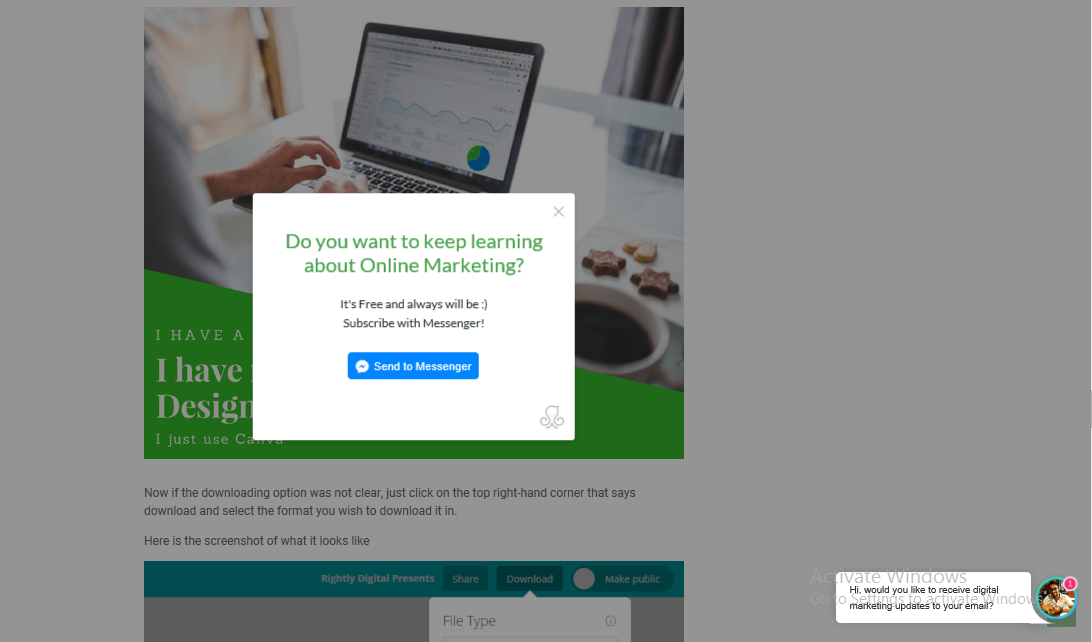 Since my site and logo is green in color, I have gone ahead and customized the colors to green in order to keep it in tune with my website colors.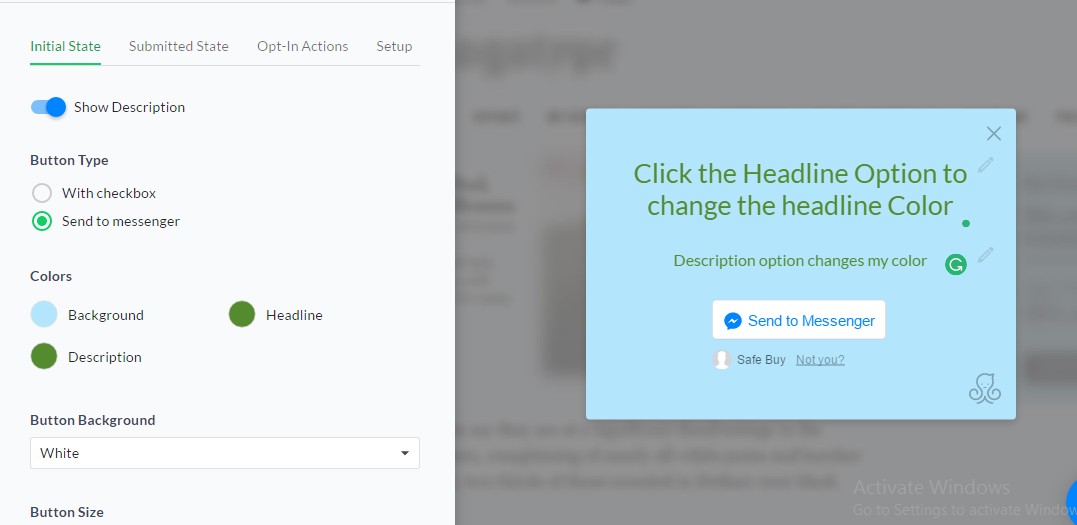 The background option changes the default white color to any color of your choice, the headline color helps you change the headline color text and the description option helps you change the description color.
You can also change the button background color from blue to white if you fancy it that way. I have tinkered with the colors to make it easier for you, however, it's quite self-explanatory.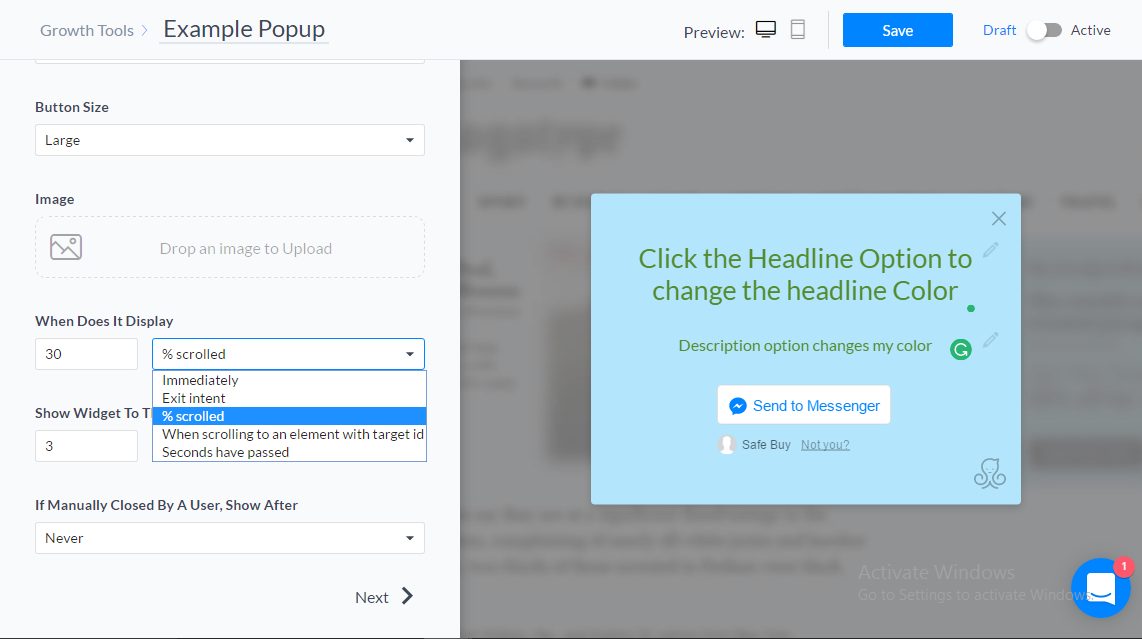 Then scroll all the way down to the 'When does it display option'. You can set the display modes in a couple of ways here.
For rightlydigital.com, I have set it up so that the popup displays when the user has scrolled to about 60 percent of my blog article, so if you're reading this article and scrolled down to about 60 percent of the article, the subscribe popup will automatically show up.
If you're wondering what exit intent means, it just means that it will show up when someone tries to exit or close the current page. The moment the person hovers their mouse on the close button of their web page, the popup will appear.
Click on next and you will reach the after submission page. This page appears when a person subscribes to your messenger popup. The process of editing is the same. Make sure your text is clear and simple.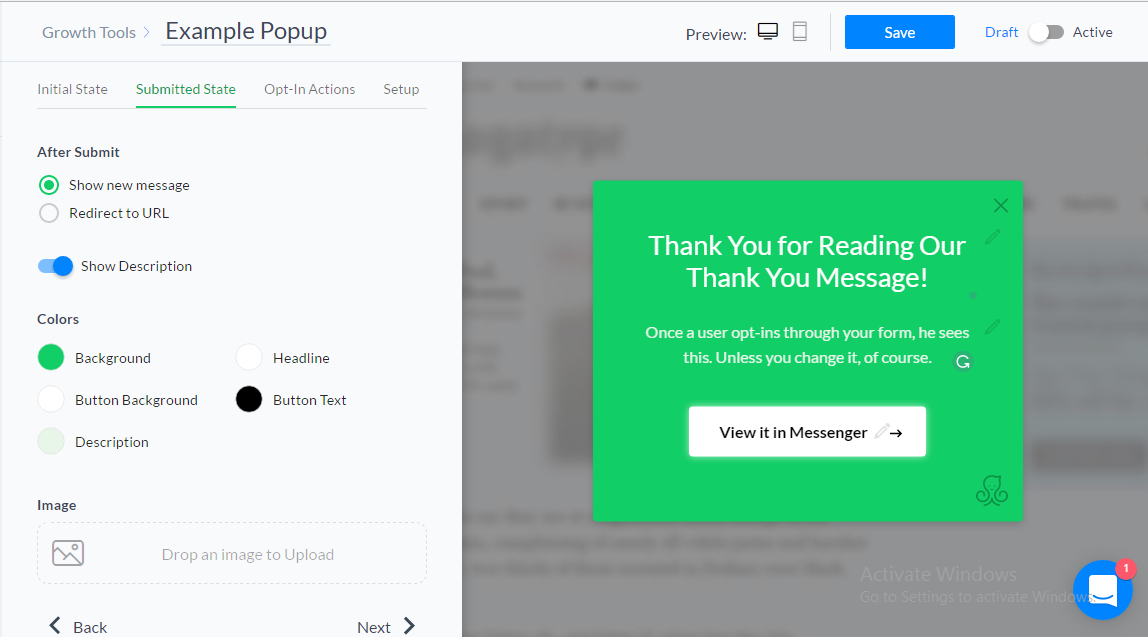 Make the changes in your text and then click on next. If you need help with the text you can contact me or simply subscribe to my messenger popup and take inspiration from there 🙂
You will then be taken to the Opt-In Actions screen. Select the Example Sequence option. You don't have to edit any text here. The default text is quite good but then again you can edit it if you wish. This is the text that appears to the user on their Facebook Messenger
Below is the text that appears to the user on their Facebook Messenger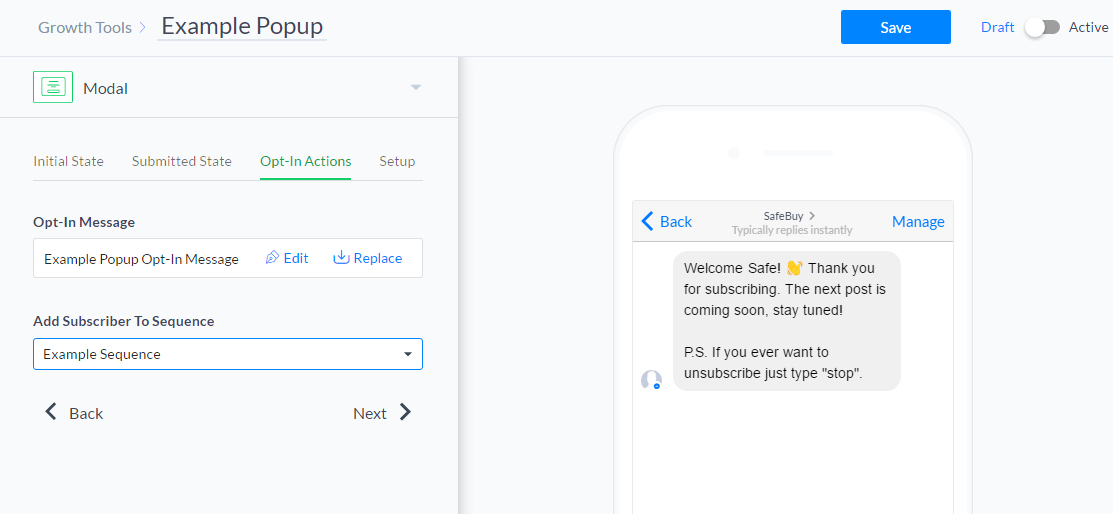 Step 3: Website Installation
Now you will be taken to the installation screen. All you need to do here is click on the install JavaScritp Snippet button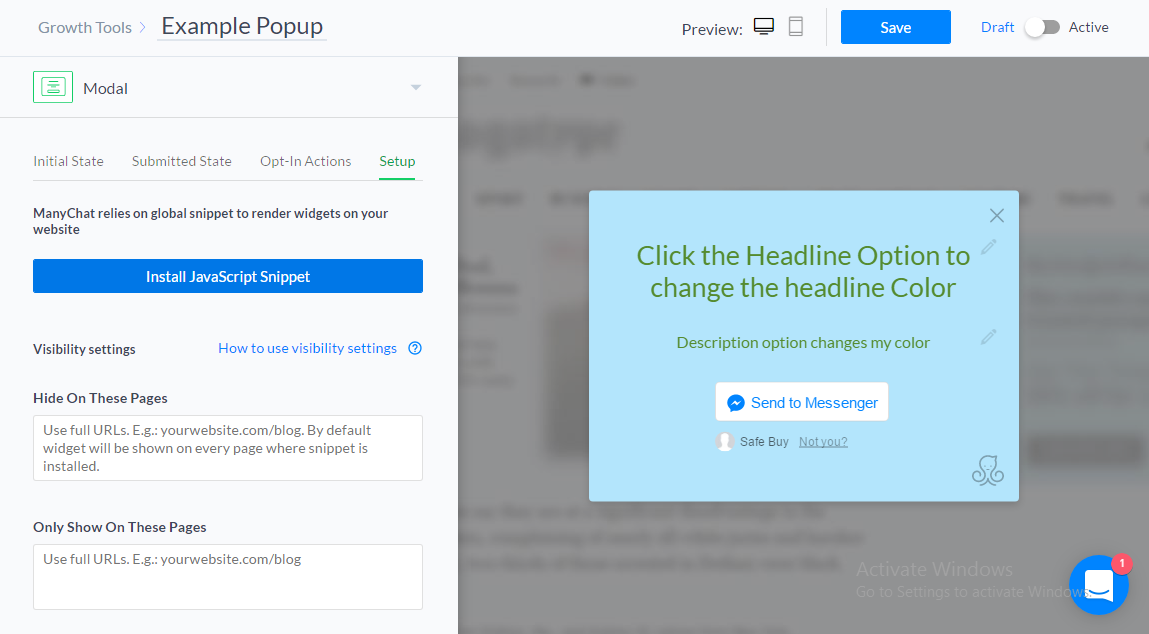 Click on option B that is, 'Install ManyChat snippet'. Copy this snippet code. The snippet code needs to be added to the header section of your WordPress site. But don't you worry, with the help of a simple plugin, we will be able to do it with ease.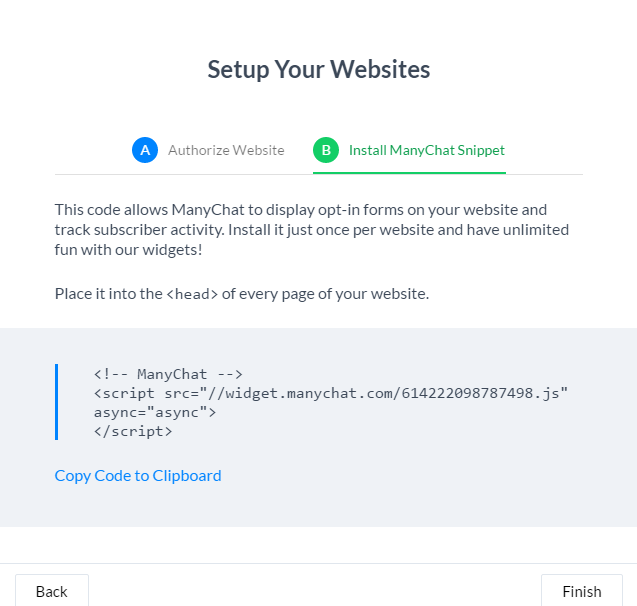 Go to your WordPress Dashboard and install the plugin called 'Add Code to Head'. With the help of this plugin, you will be able to add code snippets like this easily on your WordPress site.
Once the plugin is activated go to the settings tab on your WordPress dashboard and click on the 'Add  Code to Head' plugin. Copy and paste the code in the box and click on save.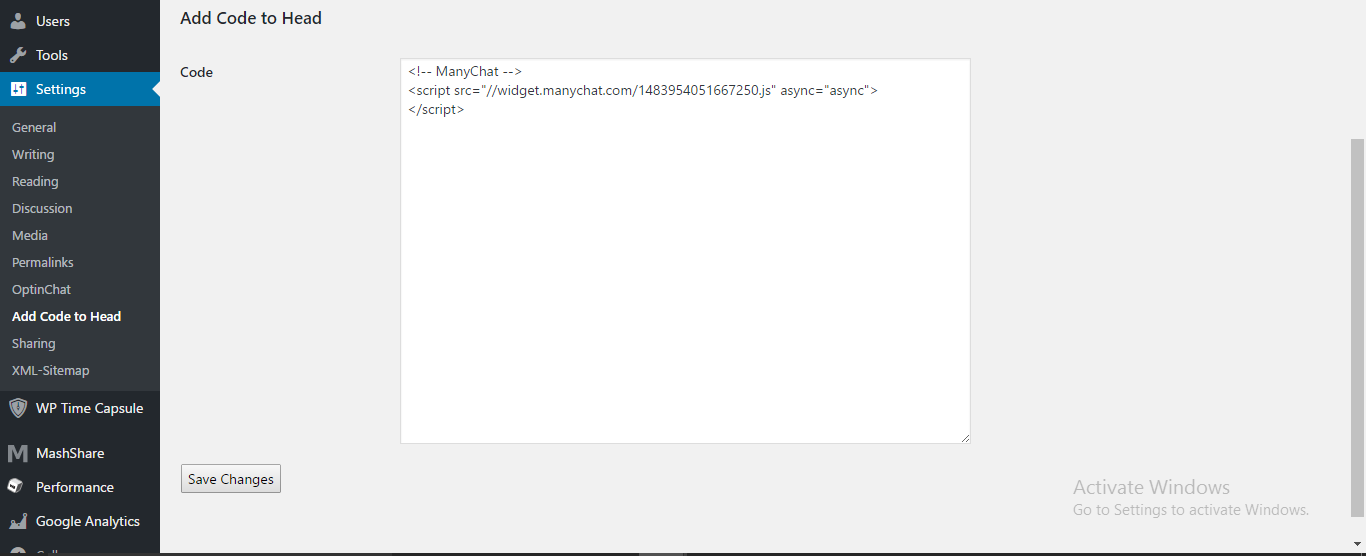 Go to ManyChat and click on save however don't forget to hit the 'active' button on the top right-hand corner of the dashboard. Only then the widget will start working.

Once you do that, go to your website and test it out. Trust me it will work. That is it, that is all you need to do to set up the messenger bot.
Conclusion
ManyChat may look a little overwhelming at first, however, the installation process is very simple. Follow these easy steps, and it will be up and running in no time. 
If you found any features in ManyChat that could help our readers, do mention it in the comments below, and let's make online marketing easy together!
Odell Dias is the founder of RightlyDigital.com where Online Marketing concepts are made easy. He has over 6 years of experience in the Digital Marketing industry, helping brands and individuals alike to achieve their marketing goals. He is known as one of the best digital marketing freelancers for small-to-medium-sized businesses.