If you haven't already heard, Instagram has now released its very own video platform known as Instagram TV or IGTV
The release of IGTV comes with the rapidly increasing popularity of video as a preferred form of content consumption. IGTV is set to rival the video giant YouTube and Snapchat's discover feature.
So what's so special and different about this new social media contender?
The uniqueness of IGTV is that it gives the user long form, full-screen vertical videos instead of the usual 60-second threshold that is available on Instagram.
IGTV lets you upload videos of a maximum length of 60 minutes, however, a lot of the content that is being pushed out currently reaches around the 10-minute mark.
How to Create an IGTV Account
In case you haven't already created your IGTV account, the steps are really simple.
There are two ways of creating your IGTV channel. One way is to download the IGTV app available on the App Store and Playstore for iOS and Android users.
Once you have downloaded the app, it will prompt you to sign in with your Instagram account.
Once you do that, it will start showing you vertical videos that you may be interested in.
On the right-hand side, you will see a settings icon, just click on it and then click on the 'create a channel' option.
It will then take you through a three-step tutorial screen, that explains the features of the app.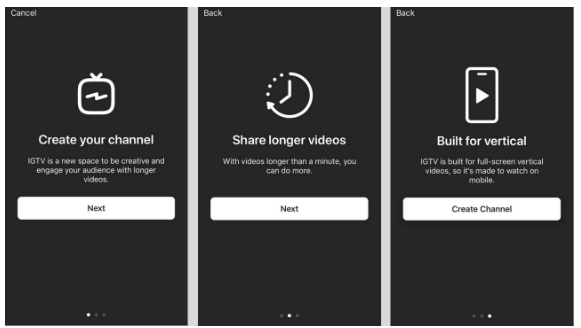 You just need to click on next until your account is created.
The second way of doing it is directly from your Instagram app. Just open the Instagram and on the top right-hand corner, you will see a small TV icon, just click on it and it will take you to the IGTV section.
Then you follow the same steps to create your own channel.
Here is a video to simplify it for you.
So now that you have learned how to create your own IGTV Channel, how do you make the most of this new platform? Here are a few tips that will help you get the ball rolling!
Tip 1: Use Keywords in Your Titles
Since IGTV is fairly new, we do not know for sure what type of algorithms it uses to rank videos. However, that being said, adding keywords relevant to your content in the title is bound to become a ranking factor sooner or later.
It should be noted that you won't be able to add any hashtags or website links in the title.
Some users content creators have started using the titles in all caps while others choose to capitalize the first letter of each word. That being said, you can choose the style that is most relevant for you.
I did notice that the average length of the tile is about 18 – 20 characters.
Make sure your Titles are enticing that will lead to viewers on staying on and watching your video.
Tip 2: Hashtags and Keywords in your description  
While you can't add hashtags in your title, you can definitely add them in the description section.
Instagram relies heavily on the use of hashtags. The ideal number of hashtags on Instagram is around 11 to 16 hashtags. I don't see why this will not transcend to IGTV as well.
Mix up your description with relevant keywords as well as hashtags that you want to ranks for. Also, make sure you add longer descriptions since it will give you more keyword opportunities.
Another thing to keep in mind is that paragraphs don't break with line breaks, so use periods or other ways to cause interruptions to improve readability.  
Tip 3: Add Links to the description
One aspect that is unique about IGTV is that it lets you add links to the description section. This is a huge deal for marketers and business owners as it will let you divert traffic to your website.
Instagram doesn't let you add URL's to your posts or stories, however, this is obviously not the case with IGTV considering it is trying to compete with YouTube   
Tip 4: Add a High Quality Cover Photo
Creating engaging videos is just half the battle. A compelling cover image will definitely leave an impression.  Many users overlook this part especially on YouTube however, a good cover photo can positively impact click-through ratios.
If you don't have any graphic design skills, you can use a free tool like Canva to create attractive cover pictures
Conclusion 
While we can't be sure which algorithms Instagram might adopt in the future to calculate its ranking, we can surely place a good bet that these 4 tips will play a vital role in Instagram optimization
Odell Dias is the founder of RightlyDigital.com where Online Marketing concepts are made easy. He has over 6 years of experience in the Digital Marketing industry, helping brands and individuals alike to achieve their marketing goals. He is known as one of the best digital marketing freelancers for small-to-medium-sized businesses.