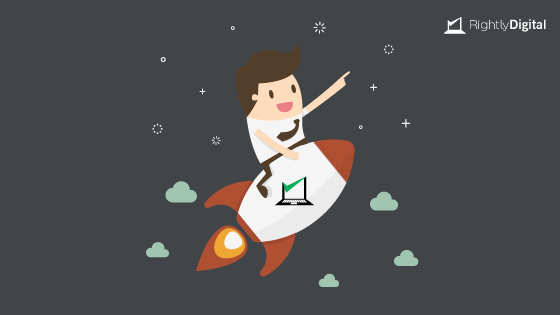 The digital marketing landscape is constantly evolving and has seen a huge rise in demand for online marketers across the world.
In order to meet these demands, many institutes have started offering online marketing courses for beginners and professionals alike.
While some of these courses offered are brilliant and will definitely give you an edge in the industry, most of them can't keep up with the ever-changing nature of the digital marketing field.
Not only are these courses outdated, they also come with a heavy price. 
When I started out my career in the digital marketing industry, I paid $102 for a Google Adwords course that was for just 7 days ( 30 mins a  day) and consisted of poor training sessions from a trainer who was more interested in 'doing his other job' than teaching his students.
You can now listen to the Podcast to get a quick walkthrough of how to get free online courses with certifications for free, hit the play button below
Fortunately, you don't have to make the same mistakes I made. 
There are many free online marketing courses, that not only are of outstanding quality but also come with certifications too.  
To make the post more interactive, I have gone ahead and made a whiteboard video as well, all the links to the post can be found on my YouTube Channel, so do check that out and subscribe 🙂
And yes while practical application will always outweigh certificates, in my personal experience, brandishing those certificates to your nearest HR will help you land a job or get more clients.
So without any further delays, here are my Top 5 free online marketing courses with certifications

Deepak Kanakaraju has over 7 years of experience in the digital marketing industry and has made a name for himself in India for his unique style of explaining complex marketing concepts in the most simplest form.
In the Free digital marketing course, Deepak offers 25 videos that will be delivered right to your inbox. 
This course is designed for beginners who want to understand the basics of digital marketing and then slowly progress to advanced concepts.
To register all you have to do is click on the link above, register with your name and email id, and voila, your free online course will be delivered right to your inbox.
You will be able to access all of the videos on a user-friendly Learning Management System (LMS), where your videos will be stored all in one place, ask questions in the comments section if you don't understand something, and get your questions answered by the support staff or by your fellow students of the course.
The course is divided into 5 Modules, these are as follows:
Introduction to Digital Marketing

Getting Your First Website

Learning Digital Marketing with your Website

Paid Advertising

Advanced Digital Marketing
Each module has subtopics that explain online marketing concepts in a sequential manner.  
So to summarize, by the end of the course not only will you be able to understand the concepts of free and paid advertising, but you will also know how to build a website from scratch and make customized landing pages. How cool is that!
Once you complete the course, you receive, (drumrolls please), your Digital Marketing Certification.
This can then be added to your LinkedIn account and you can also take a print out and get it laminated (if you wish).
Here is a picture of what the certificate looks like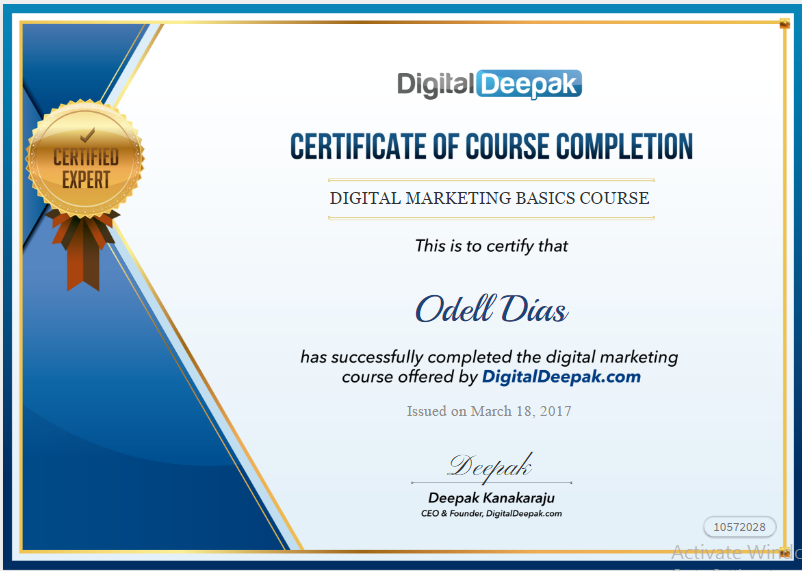 And I kid you not, the HR's love it.
Pro Tip: Join the Facebook group Learn Digital Marketing, which is created by Deepak himself.
It has more than 49,000 digital marketers and enthusiasts who will further add value to your learning experience.
Next on the list is Hubspot's Inbound Marketing Certification Course.
After you complete your digital marketing course from Digital Deepak, I recommend getting on board with Hubspot's approach to inbound marketing.
The course teaches you how to delight customers using a pull approach rather than pushing your products or services on customers.
Some of the main highlights of the course are
Fundamentals of Blogging

Amplifying your content with Social Media

Sending the right Email to right Person

Enticing Clicks with Call-to-Action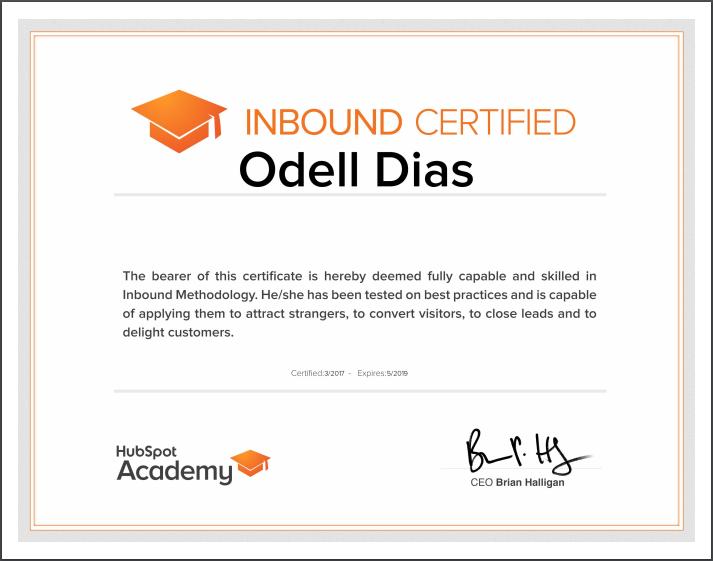 The best part about Hubspot's method of teaching is that you're tested with engaging quizzes on the course content.
You may have heard it by now that 'content is king'.
Gone are the days when keywords stuffing and creating low-quality backlinks gave you a fighting chance with your SEO activities.
Google has grown a lot smarter and now rewards you based on the quality of the content you provide.
If you write high-quality articles for your target audience and follow white hat SEO techniques, then Google will reward you by ranking your web page higher, if you do the opposite, you will be penalized.
Keeping this in mind, it has become essential to learn the art of content marketing, this course will help you achieve just that.
The course teaches you all about content marketing and how the power of storytelling can help you build relationships with your customers.
Few of the highlights of the course are:
Planning a long-term content strategy

Generating Content Ideas

How to Become an Effective Writer

Measuring and Analyzing your Content.
The course follows the same teaching structure as the Inbound Marketing Course, with videos and quizzes to test your skills and knowledge.
Once you finish this course, you will receive the certification, however, to really get out of this course, I recommend creating your own free website on WordPress (if you don't already have one) and start practicing these content marketing techniques.
Now we enter the big boy territory, Google owns a whopping 71% of the search market share according to a survey conducted by netmarketshare.com
Almost everyone who owns a business or offers a service use Google in one way or the other, to reach their customers.
The platform used to show your ads on Google and its advertising network is called Google Adwords.
Google Adwords largely focuses on the use of keywords to target potential customers, where you pay for your ad only when someone clicks on it.  
Companies now prefer certified Google Adwords professionals to achieve their marketing goals. And while Google use to charge customers for giving the certification exam, now it is absolutely free!
Note that Google recommends that you must take the exam only if you have experience in using the Adwords interface and I do too, however, there is no hard and fast rule to that.
This what the certificate looks like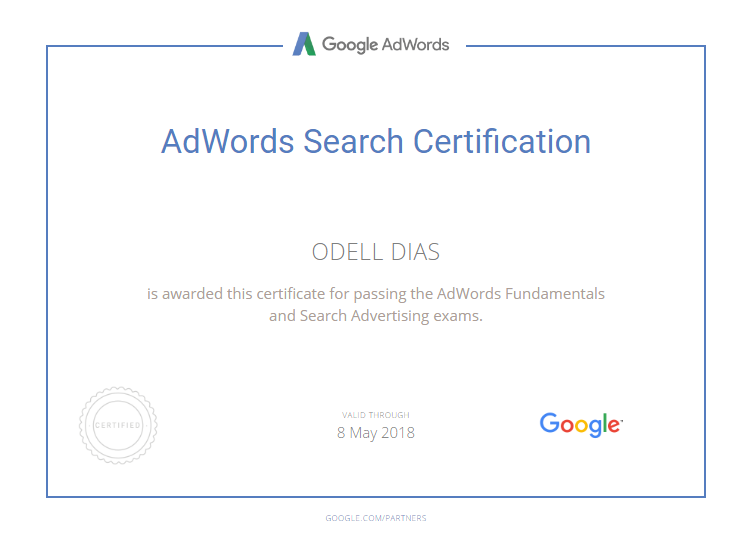 Even if you have not used Google Adwords before, you can still sign up with a Google Partners account, study for the different exams that Google offers, and get certified.
Although that would be studying like a parrot and that is never a good idea.
Also, to get the official certification, you need to clear a minimum of 2 exams that Google offers.
Do not fret though, the study material provided by Google consists of easily digestible information along with videos so that you grasp the online course content quickly and with ease.  
Pro Tip: Watch the YouTube video below  if you don't have access to an Adwords account and learn how to set up an Adwords account to start using the interface like a champ
The trainer Issac Rundasky`s, online courses out there are simple and easily explains how to use Google Adwords from a beginner level absolutely free.
It is over an hour so you probably would want to save the link for later.   
Now I know the title of this article is 4 Free Online Courses with Certifications to Kick-Start your Digital Marketing Career. So why have I gone ahead and added a 5th paid course? 
Because while the 4 courses above are absolutely fantastic and will definitely put you on the right track in your digital marketing career, it will take you a while to organize and apply the learnings in a proper context.
The 100 Day Blogging Course, on the other hand, is a fast-track way of getting you up to speed in your digital marketing career.
To be honest, the course is undervalued for the amount you will learn. To put things in perspective, the website RightlyDigital.com was built while I was doing this particular course.
I have managed to get more than 3,000 Plus visitors on to my website and built more than 200+ Subscribers to my email list in a matter of 5 months without paying a single dollar on Paid advertising. And the subscribers keep on growing.
So what will you learn in the 100 Day Blogging Course?
How to build a website from scratch
How to Analyze your traffic with tools like Google Analytics
How to do Social Media Marketing
How to write SEO optimized blog posts
How to do Email Marketing
How to do Paid Advertising
I have only listed 10% of what you will learn in this course. I highly recommend it if you don't have the time and need to get a super boost in your career.

The reason why I am vouching so much for this course is that Rightly Digital exits only because of this very course and I am immensely grateful for it. 
Conclusion
Digital Marketing is an ever-growing, ever-changing field.
And while there are many talented teachers who can get you up to speed on the multiple facets of online marketing, there are also many who are not up to the mark.
If you are truly passionate about digital marketing, I recommend you start off by pursuing these free online marketing courses and get certified.
Once you have completed this stage of your education, then you will be in a better position to understand if you need more training from a professional institute or consultant.
You will also be in a better position to choose the right course for yourself.
If you're running low on time, then you should consider the 100 Day Blogging Course as I had mentioned above.
Have you come across any free online marketing courses with certifications that I missed out? Do let me know in the comments below and let's make online marketing easy together 🙂
Odell Dias is the founder of RightlyDigital.com where Online Marketing concepts are made easy. He has over 6 years of experience in the Digital Marketing industry, helping brands and individuals alike to achieve their marketing goals. He is known as one of the best digital marketing freelancers for small-to-medium-sized businesses.