Marketing through social media is crucial for growing your business, creating a brand, and increasing sales.
Research conducted by Forbes revealed that 80% of consumers make their buying decisions based on their friends' social media posts.
If you're not marketing your brand on social, you're literally losing out on customers.
Now that you know the importance of Social Media Marketing, here are 13 tools that will help you leverage the power of social media to grow your business.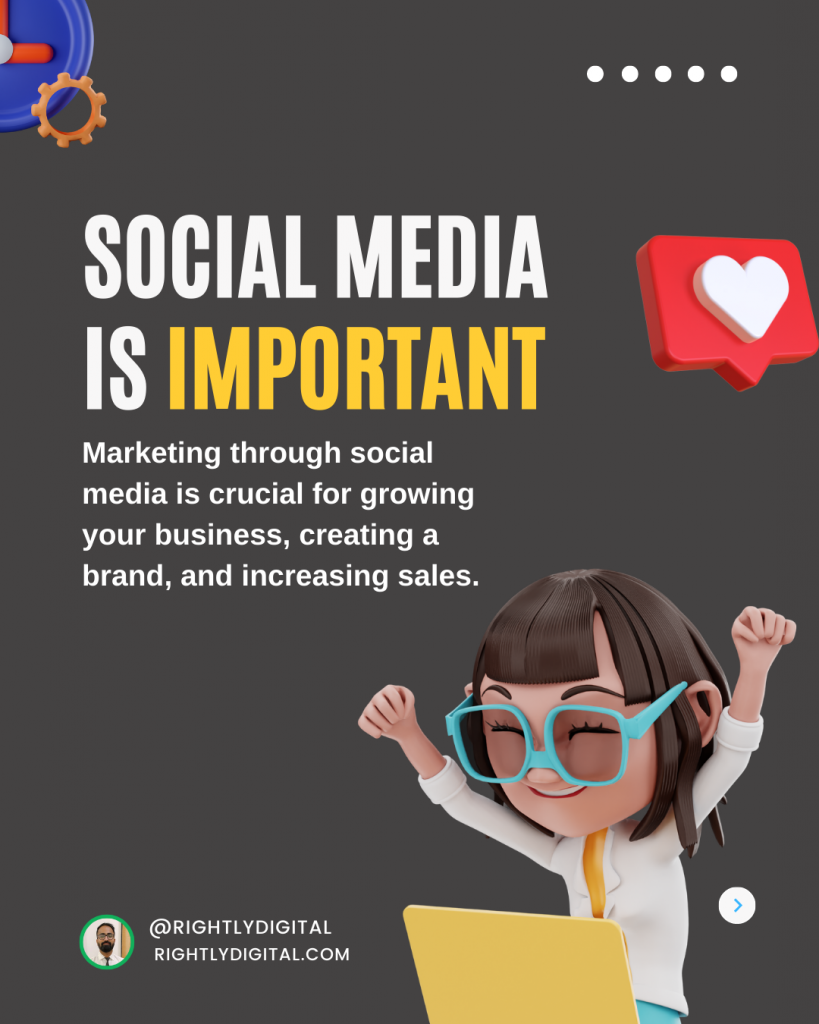 Buffer: The perfect tool that will help you save a lot of time
I use buffer to schedule all my social media content across Facebook, Instagram, & Linkedin. You can add other platforms as well. Buffer gives you a lot of other nifty features like:
The ability to measure your social media performance
Collaborate with your team and schedule your posts in advance
Respond to comments quickly by adding labels and hotkeys
Buffer has a whooping 140,000+ users, making it a well-established, tried, and tested tool for social media enthusiasts.
Canva: Your all-in-one Graphic Design Tool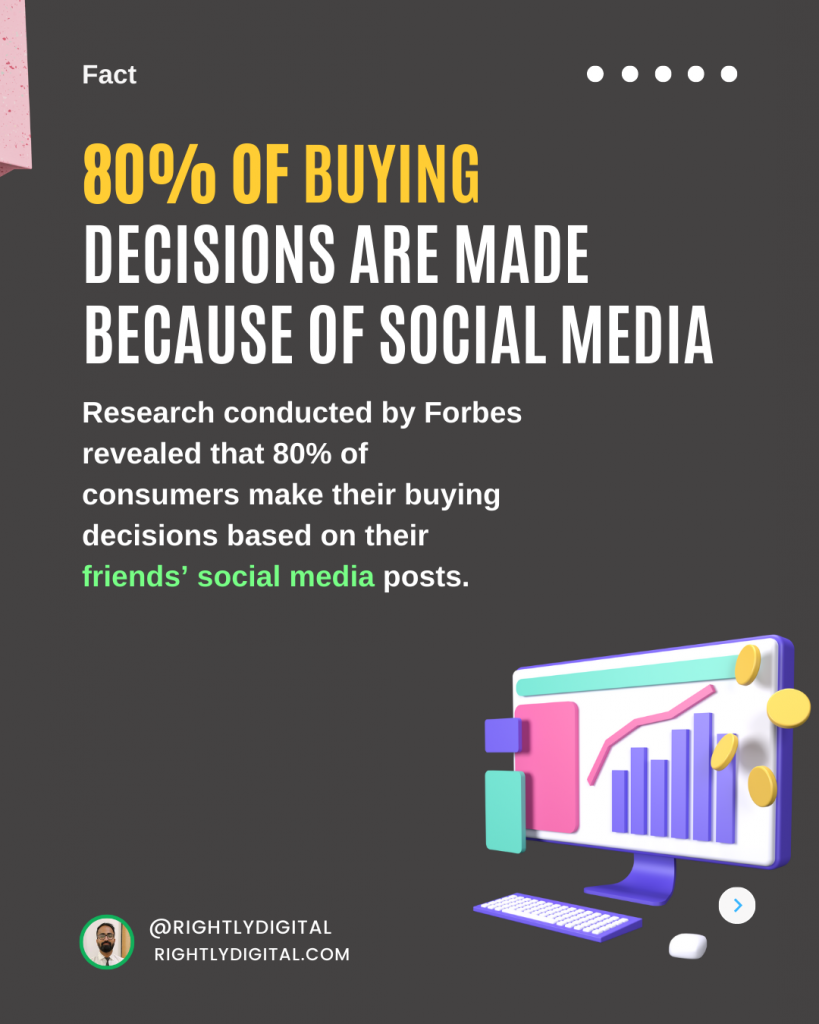 If you're a social media manager, freelancer, or business owner,  you need beautiful graphics for marketing and branding. This is where Canva comes in. All the images in this article are designed using it.
With Canva, you don't need a graphic designer or any design skills to create stunning graphics, just choose from their beautiful templates, edit them to suit your needs, and you're done.
You can create social media graphics, brochures, presentations, printable materials, logos, and more for free.
Grammarly: Make your writing simple, and effective without errors
Typos can be a pain, especially when you're creating content for social media. With the help of Grammarly, you can ensure there are no errors in your captions. Grammarly helps you improve your content by making it concise, clear, and simple. It is a tool that is used by nearly 30 million daily active users
WordTune: Your AI Writing Assistant that will help you Rewrite Anything
WordTune is an extremely powerful tool that can help you rewrite and rephrase captions. Used by over 10,00,000 people, WordTune gives your articles the boost they need, especially when you are facing writer's block.
Copyscape: Check if your content is Plagiarised
Copyscape is a great tool to help you check if the content you have written has already been written before. There are times when you subconsciously end up writing what you researched. Taking inspiration is fine but plagiarising is not! Copyscape will help you avoid this by keeping your content clear and original.
Animoto: Make Engaging Animated Videos for Social Media
With Animoto, you can make beautiful stunning videos for your social media accounts at lightning speed. With tons of video templates to choose from, you can create amazing videos with just a few clicks. There are several options like Facebook Video Ads, Instagram Promo Ads, and YouTube How-to Ads, so give them a try!
Bitly: Shorten Your Long Ugly Links to Short Links
We all share a lot of our website links on Social Media, but sharing long links can hamper our posts, especially on platforms like Twitter. With Bitly, you can convert those long ugly links into short URLs that are easily sharable. You also get access to the number of people who clicked on your link. How cool is that!
InShot: Edit Videos on Your Mobile Like a Pro
Video is powerful for communicating your message effectively to any type of audience. In fact, look at the popularity of TikTok, Instagram Reels, and YouTube Shots.
Micro-vertical videos are currently exploding and one of the easiest and best ways to edit your videos on mobile is InShot.
They have tons of transitions. You can cut, edit, add a wide selection of soundtracks, and more for free using this powerful app.
Take it a step further with their pro plan and get access to a number of transitions and elements, that you may have seen used by a lot of pros on Instagram reels and TikTok
Exploding Topics – Get ideas based on what's trending
Exploding topics is a great tool you can use to check what is trending on the internet and build content around those content points.
You get access to several categories and search for major topics within that category that are trending. You can use such data to create content on trending topics and watch your articles explode.
Mailchimp – Email Marketing Made Easy
Mailchimp is an email marketing tool that gives you tons of options like sending bulk emails, creating email automation sequences, landing pages, and more. It's free and easy to use and a must tool if you want to create lead magnets for social media.
Linktree – Share all your Links with a Single Link
With Linktree you can share all of your digital assets by adding one single link in your BIO. If you want to add your website, social media links, eBooks, podcasts, white paper links, etc, Linktree is going to be your go-to tool.
Create a single link with Linktree. Add this link to your Instagram bio, or other social media platforms so that people get access to all your content with a single link.
Not only that, but Linktree also gives you access to analytics so that you can see how many viewers are interacting with what type of content.
It's used by over 25 Million users, so if you haven't already created an account yet, you should start now!
Veed – Online Video Editor that is Super Easy to Use
With Veed, video editing becomes really simple. With just a few clicks you will be able to edit all your videos with ease.
I specifically use Veed to remove all the background noise from my videos with their clean audio feature.
If you have videos that have too much background noise, just upload it to Veed, hit the clean audio feature, and voila, you got yourself clean audio ready for uploading!
Google Keep and Google Sheets – Save your notes and Organize your Captions on the Go
I have clubbed both Google Keep and Sheets together however they both are used for completely different reasons.
With Google Keep you can jot down your ideas, set reminders, make notes or save information on the go and access them directly on your phone. This comes in handy when you get that surge of inspiration and need to jot down ideas quickly.
Google Sheets on the other hand is extremely useful when I want to create an organized list of my social media content plan. It's where I keep track of all my captions, future dates, schedules, and themes that I might cover, and all posts that I've already written.
Summary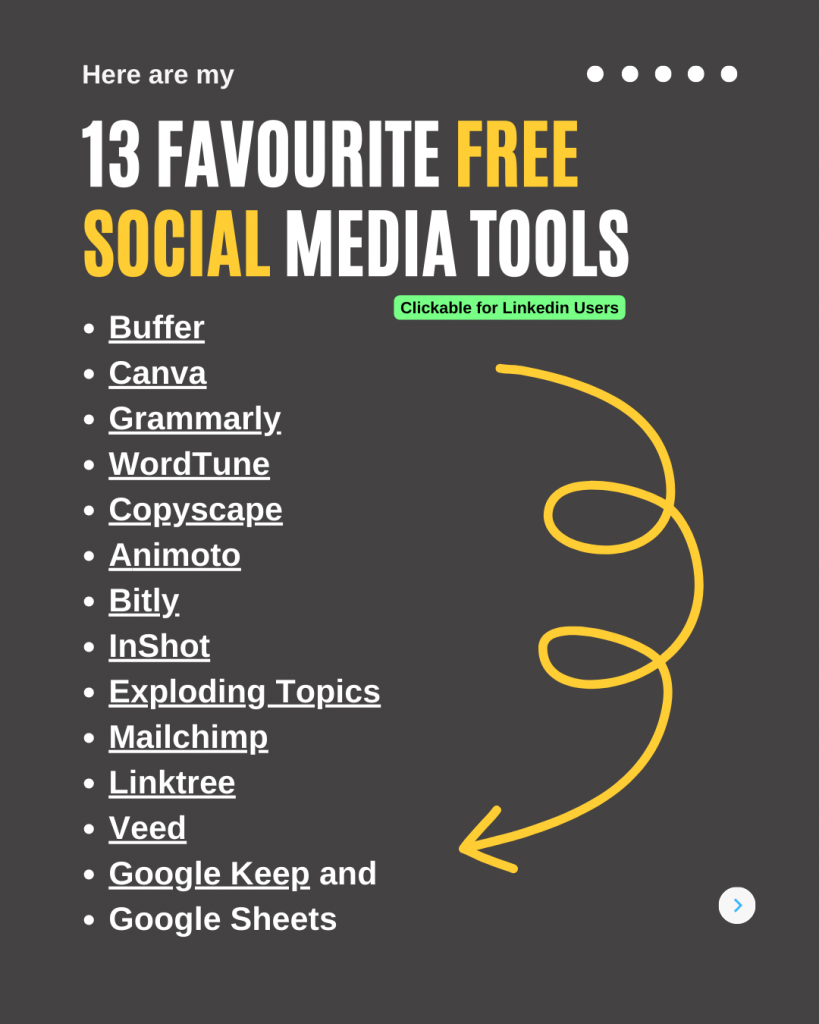 Here are 13 Free Social Media Marketing tools to Grow Your Business
I hope you find these tools useful, they have surely helped me grow my clients businesses to the next level.
If all of these tools seem overwhelming to you and you just want someone to help you take over your social media marketing, then you can get in-touch with me by clicking the Whatsapp button. I am a digital marketing freelancer and have helped over 300+ clients scale their social media marketing.
Odell Dias is the founder of RightlyDigital.com where Online Marketing concepts are made easy. He has over 6 years of experience in the Digital Marketing industry, helping brands and individuals alike to achieve their marketing goals. He is known as one of the best digital marketing freelancers for small-to-medium-sized businesses.