You may have wanted to verify your Facebook Business account and after following all the standard processes, you realize that the button is greyed out.
After scouting several articles and typing queries like 'I cannot verify my facebook business, button grayed out' and nearly reaching the edge of my frustration levels, a workaround has been posted by a user named Akshay on the Facebook Support Community and it works!
For the sake of convenience, I'm sharing Akshay's steps here word-to-word.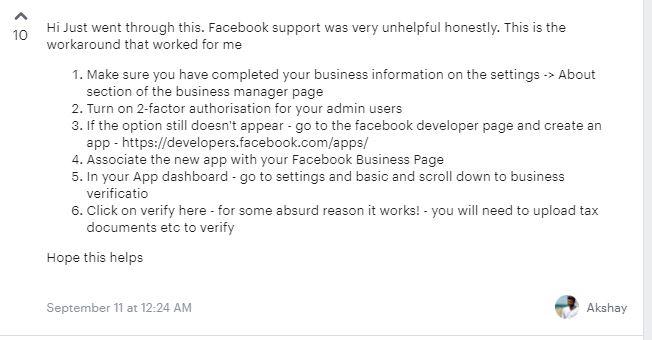 1.) Make sure you have completed your business information on the settings -> About section of the business manager page
2.) Turn on 2-factor authorisation for your admin users
3.) Create a Facebook App and Associate the new app with your Facebook Business Page
Go to https://developers.facebook.com/apps/ to create the app
4.) In your App dashboard – go to settings and basic and scroll down to business verification
Make sure you have added a privacy policy page to get this option. If your website does not have a privacy policy page, you can create one here for free: https://www.privacypolicygenerator.info/
5.) Click on verify here
For some absurd reason, it works! – you will need to upload tax documents etc to verify
Link to Akshay's original steps posted here
Thank you Akshay, some heroes truly don't wear capes!
Odell Dias is the founder of RightlyDigital.com where Online Marketing concepts are made easy. He has over 6 years of experience in the Digital Marketing industry, helping brands and individuals alike to achieve their marketing goals. He is known as one of the best digital marketing freelancers for small-to-medium-sized businesses.