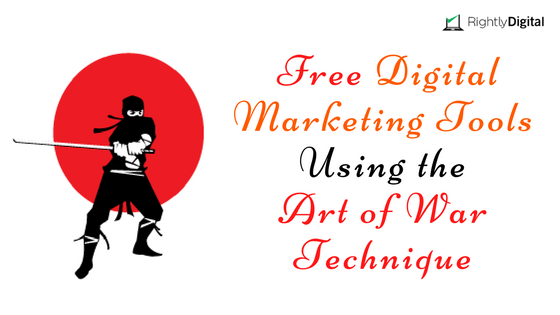 The Art of War is one of the world's most insightful military texts that was published about 2500 years ago by Sun Tzu.
To this day, the Art of War is widely used by Business Entrepreneurs, Sports Coaches, and Military representatives to help with achieving their unique business goals.
The manuscript lists a set of principles that if followed correctly claims that you can win any battle irrespective of the number of troops you possess.
In fact, these techniques had been famously used in the Vietnam War where America faced an embarrassing defeat even though they had deployed over 2,709,918 troops in the entire Vietnam Era.
Taking inspiration from the techniques laid out by Sun Tzu, here are 4 Free Digital Marketing Tools that imbibe the lessons from the Art of War
Odell Dias is the founder of RightlyDigital.com where Online Marketing concepts are made easy. He has over 6 years of experience in the Digital Marketing industry, helping brands and individuals alike to achieve their marketing goals. He is known as one of the best digital marketing freelancers for small-to-medium-sized businesses.